Looking for an alternative to the traditional playard?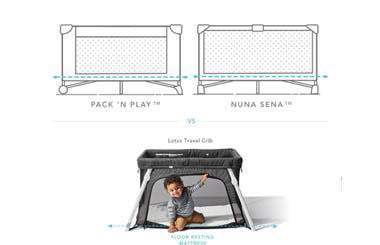 The Pack n Play™, Nuna™, 4Moms™, and other traditional-style playards use a common design with a raised mattress. The highly rated Lotus Travel Crib has a mattress that rests on the floor instead making it lighter for you to carry, fold down 50% smaller, and be more portable.
Traditional Playards
Lotus Travel Crib
"
We've borrowed several play yards/travel beds before purchasing this one,
and the Lotus is by far our favorite.

"
What's the difference in portability?
A travel crib's packed weight, size and shape contribute to making the best travel portable playard. See the chart below to see how traditional playards compare to the lightweight, compact Lotus Travel Crib.
Traditional Playard
Lotus Travel Crib
Total Packed Weight
Total Packed Weight
25-35+ lbs
13 lbs


60% lighter!

 
Packed Size (W x L x H)
Packed Size (W x L x H)
12.5" x 12.5" x 31.0"
24" x 12" x 8.5"


50% smaller!

 
Airport-Friendly
Airport-Friendly

–

 
Traditional Carry Style
Traditional Carry Style
 
Hands-Free Backpack Carry
Hands-Free Backpack Carry

–
"
I searched the web for a smaller pack and play that was easy to set up and take down. I saw the Lotus, read all about it,
and knew it was perfect for me.

"
Why does GreenGuard™ Gold matter?
We know you go above and beyond to guarantee your little one is safe, so we did the same for the Lotus Travel Crib: it's the only travel crib on the market to be certified GreenGuard™ Gold, a rigorous test guaranteeing the Lotus is non toxic.
GreenGuard™ Gold Certification
No Fire Retardants
Low VOC
No Lead
No Phthalates
No PVC
No Heavy Metals

Additional Safety Features
Breathable ClearView Mesh
No Weight Limit
Organic Sheet Options

"
If you're like me, you agonize over the safety and ease of all you baby products...
no need to worry with the Lotus Travel Crib.

"
Why is hands-free carrying important?
When it's time to pack up and leave for a trip you'll be juggling more than just a travel crib. That's why we've created an easy, small carry bag that can be worn comfortably like a normal backpack.
What are the advantages of a mattress on the floor?
#1 - Easier bedtimes
Side door access allows you to dreamfeed and co sleep with your baby as they fall asleep.

#2 - Comfortable sleep
The insulated, thicker cushion stays quiet as your little one moves while sleeping or play.

#3 - No weight limit
With no weight limit even a large toddler can crawl in and out without problem.