Baby Car Seat Buying Guide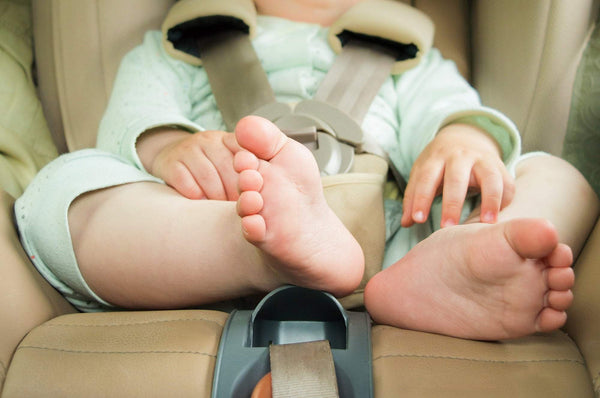 No matter if you're a new parent or a seasoned pro at raising kids, you always want the best for your baby when it comes to their safety.
Driving a car is a common activity for most families, but that doesn't mean you should be lulled into a false sense of security because of its routine nature.
Of course, wearing a seatbelt is the most important precautionary measure you can take to protect yourself and your baby during the worst-case-scenario: a car crash. With children and infants in particular, it's imperative that they're properly secured in your vehicle.
Here's a startling statistic: the leading cause of death for children between the ages of 1 and 15 is car accidents. However, when you're equipped with the proper knowledge and the most up-to-date car seat, you can help ensure your family's safety for years to come.
Read on for more safety information to help you buy the right baby car seat for your child. Or, simply use the links below to find a specific topic.  
Types of Car Seats
Wondering which car seat to buy? We've got you covered. There are four basic types of car seats you can use before your child graduates to regular seatbelts. Each are geared toward a specific phase in a child's development, and questions of mobility, function, and length of use all factor into the final decision.
Infant car seat:

These rear-facing car seats are specifically designed to safely transport newborns and babies who weigh between 22 and 35 pounds (dependent on the limits delineated by the specific car seat). When your baby hits the height and weight limits outlined by the manufacturer, you'll move your little one to a convertible seat. Alternatively, you can go straight to a convertible car seat that will fit a newborn as well as babies closer to toddlerhood.

Convertible car seat:

This particular baby seat is a more versatile option. It functions as a rear-facing seat for both infants and toddlers, as well as a great option for older children when it's positioned to face forward. New convertible car seats can hold toddlers up to 40 pounds in a rear-facing orientation and children up to 70 pounds in a forward-facing orientation.

All-in-one car seats:

An all-in-one car seat can be used for newborns, babies, toddlers, and young children. These seats can transition from rear-facing infant and toddler car seats into high-backed booster seats and backless booster seats once your little bundle of joy starts to grow up.

Booster seats

: Your child will eventually outgrow the harness system, usually at 40 pounds, or when he or she is too tall for their forward-facing car seat. At this point, it's time to transition your child to a booster seat. Use a booster seat until your child can wear a seatbelt properly.

Seatbelts:

In order to safely wear a seatbelt, children should be able to comfortably sit with their back against the seat without slouching–meaning their knees can comfortably bend over the edge of the cushion. In most cases, children who are between 8 and 12 years old and have reached a height of 4'9" can correctly use a seatbelt. The

CDC

recommends that children who are less than 13 years of age ride in the back seat.
Infant Car Seats
The best car seats for infants are rear-facing only. However, by about 8 or 9 months old, your child will reach the height and weight limits for a rear-facing seat. At that point, it's recommended you transition your child to a convertible baby car seat and use the rear-facing orientation.
What to look for in an infant car seat:
Rear-facing:

This is the safest position to protect young babies from the force of impact in case you get into a crash.

5-point harness:

A harness system with five points means that your child is secured with five straps. Two secure the shoulders, two more secure the hips, and one crosses over the lower body. All these straps are connected by a buckle in the center. Typically, a 5-point harness is preferred over a 3-point harness.

Front adjuster:

A front adjuster aids in tightening the harness.

Maximum recline of forty-five degrees:

Many car seats have angle indicators to make sure you're getting the correct recliner angle to keep your baby healthy and alert.

Handle for traveling:

A convenient bonus for toting your little one around! Many infant car seats have a handle you can use to carry the seat from one vehicle to another.

Rear-facing tether, impact foam, and anti-rebound bar:

These are additional safety features that help secure your baby and disperse impact.

Seat base system:

Baby car seat systems often come with a base. A car seat with a base is a convenient option if you have more than one car. Simply getting another base for a car seat instead of two separate car seats saves you time and money.

Stroller compatibility:

Infant car seats are also usually compatible with certain types of strollers. Some are even sold as a stroller and infant car seat package; in most cases, the car seat simply clips into the stroller. If you're looking for a baby car seat that will transition into a stroller, make sure to do your research to find out which strollers are compatible with your seat.
Convertible Car Seats
When you want a car seat that will grow alongside your child, opt for a convertible model. Once you're ready to make the jump from an infant-only to a convertible car seat, you use the same rear-facing orientation as you did for your newborn. Then, when they're older and weigh enough, the car seat can be changed to a forward facing seat.
Here's what to look for in a convertible car seat:
Rear-facing

: This orientation for a car seat is safer than forward-facing. It's important to keep your child in a rear-facing orientation for as long as their weight and size allows. If possible, choose a convertible car seat with a rear-facing limit between 30 and 35 pounds.

5-point harness

: Again, the 5-point harness is the safest strap system. Always try to choose a baby car seat that has a 5-point system rather than a 3-point system.

Front adjuster:

This helps tighten the harness for a more customizable fit.

Tethers, impact foam, and locking clips:

Additional safety elements that provide added security and comfort for your baby.
All-In-One Car Seats
All-in-one baby car seats are the most versatile option. They can be used from the infant stage all the way to the toddler stage. For an all-in-one car seat, you need to make sure it features the same basic safety features as convertible car seats and infant car seats, including: a rear-facing orientation, a 5-point harness system, tethers, a front adjuster, and impact foam.
Before immediately jumping on the all-in-one bandwagon, there are some negatives and positives to consider. We've listed some key elements that should factor into your decision below.
Pros of all-in-one car seats:
Economical:

It's the most economical choice over the long run because you're not buying multiple car seats.

Long-lasting:

One all-in-one car seat can last up to 12 years of a child's development.

Higher weight ratings:

These types of car seats have higher weight ratings. In terms of safety, that means you can keep your child in the rear-facing position for a longer period of time. Plus, all-in-ones also have a higher weight rating for a front-facing orientation, so your child can use the harness system for a longer period of time.

Familiarity:

Your children will never have to adjust to a new car seat and as a parent, you won't have to learn new installation techniques for different car seats as your child grows.
Cons of all-in-one car seats:
High initial cost:

Due to their multifunctional use, all-in-one car seats tend to be pricier in initial cost.

Bigger and bulkier:

These types of car seats are the heaviest of all and tend to difficult to transport. They rarely come with handles. All-in-ones are also built to stay in the car so you'll need a carrier and separate stroller.

Too big for small babies: Sometimes, all-in-one car seats are a little too large for small infants and babies who are born prematurely.
Booster Car Seats
A booster seat works by elevating your child to a point where the adult seat belt fits comfortably over them. The seat belt is used to secure both the child and the seat itself. Once your child has reached 40 pounds, it's time to invest in a booster seat.
Booster seats come in two set-ups: backless and high-backed. The high-backed booster seat is best if your car has low seat backs without any head rests. However, if your car does have head rests and adequate seat backs, a backless version is perfectly fine.
When using a booster seat it's important that the belt is securely fastened so that it's tight but not uncomfortable for your child. The belt should be placed across the pelvic region, instead of the stomach. Additionally, the diagonal shoulder belt should be resting on the shoulder instead of the neck.
Booster seats generally have additional padding and an adjustable headrest so you can keep using it as your child grows. Even if you think your child has grown out of their booster seat, it's important to use it until they can sit comfortably against the seat of your car with a flat back and knees bent over the cushion.
Car Seat Safety Features
Any car seat on the market today meets federal safety requirements. To meet these regulations, car seat makers perform a series of intensive crash tests to simulate that dreaded worst-case-scenario. Modern car seats use advanced technology to absorb and safely disperse shock, effectively protecting the most sensitive parts of your child's body.
5-Point Harness
Although car seats come with a variety of harnesses such as 3-point and 2-point safety harnesses, the best protection is offered by a 5-point harness. This type of harness keeps your child safer during a crash because it restrains them at the hips, shoulders, and pelvic region so it's less likely they'd be thrown from the car.
Impact Protection
Impact protection technology keeps your baby's body in proper alignment during day-to-day use and in the event of an accident. There's quite a few ways modern car seats help shield your child from impact forces, including:
Side impact protection:

This helps keep your child's neck, spine, and head in a straight alignment. Energy-absorbing foam helps to disperse the shock of impact.

Impact protection shield:

This component goes across the chest and midsection of your child. It diverts impact energy away from the body to prevent injuries.  

Performance chest pads:

These are usually found on the straps and again, they work to lessen the impact shock and to keep your child properly secured.

Pillow:

A pillow – usually removable –supports the back of your baby's head.

Side wings:

Padded sections added for both security and comfort.

Head impact protection:

This helps to keep your baby's head stable in the event of a crash.
Easy Harness Adjustment
Because car seats are notoriously difficult to install, look for car seats that have harnesses that are easily adjustable. It's crucial that you know how to adjust the harness of your car seat because it affects the overall safety and integrity of the seat.
The National Highway Traffic Safety Administration (NHTSA) estimated that 59 percent of car seats are installed with at least one error that could impact its effectiveness during a car accident.
Tips for adjusting car seat harnesses:
Adjust and modify the harness as your child grows.

Make sure both sides of the harness have equal tension, meaning one side shouldn't be looser than the other.

Always buckle the harness when you're in the car.
A properly fitted harness helps to divert impact forces away from your child and drastically diminishes the chance of ejection in the event of a car crash.
Lateral Headrests
Lateral headrests offer side protection for your baby's head and keeps it centralized in the car seat. This helps protect against jerky motions when you accidentally hit a pot hole or make a sudden maneuver.
Seat Belt Guides
Seat belt guides are typically specific to each individual booster seat, as these types of car seats use a seat belt to strap down both the seat itself and your child. Look for a booster car seat that has seat belt adjusters which help ensure the seat belt is always in the correct orientation as your child grows.
LATCH System
When you're looking to purchase a baby car seat, you might run into something called "LATCH". LATCH stands for "Lower Anchors and Tethers for Children." Simply put, it's a system of anchors and attachments that eliminate the need for seat belts. Designed to make the process of installing baby car seats easier on parents, most vehicles made after September 1, 2002 are equipped with LATCH.
Traveling with Baby
Besides using them in the car, there are also plenty of baby car seats that are airline approved and meet the height, width, and weight requirements set by the Federal Aviation Administration (FAA). Simply look on the label or do a little research online to check specific FAA-approved models.
If traveling with your baby is on your bucket list, we recommend investing in the right baby gear and arming yourself the proper knowledge so you both have the best travel experience possible.
For example, if you're planning a road trip with a fussy baby, take a look at our tips to help soothe the symptoms of infant car sickness.
Another travel necessity is a reliable travel crib. There's nothing worse than dealing with a complicated crib set-up when you're trying to enjoy a family vacation. Take the time to plan ahead and invest in a travel crib that's easy to set up, portable, and airport-friendly.
Installation Tips for Car Seats
We know even the most seasoned parents can struggle with installing car seats–some of them can be really complicated! We've outlined a couple of tips below that will hopefully smooth out the process.
Read the instructions:

This isn't the right time to MacGyver the car seat into fitting into your new BMW. Make sure to actually read the instructions to ensure everything is properly aligned and locked in.

Place car seats in the back:

The ideal location is usually the middle seat, but it's alright if that's not always possible. Always avoid the front passenger seat.

Read your car's manual:

This is where you can check for a LATCH system for seat belt-free anchoring for the car seat.

Lock the seat belt:

If there's no LATCH system, read the owner's manual of your car to ascertain how to lock the seat belt once it's in the correct position.

No wiggle:

Once you've installed the car seat, you should not be able to move it more than one inch from side to side.

Recline angle adjustment:

Make sure the base of the car seat is level to keep your infant's head stable.

Connect the tether:

For forward-oriented car seats, there is an additional strap at the top. Ensure it's as tight as possible to help protect your little one.
New vs. Used Card Seats
Since new baby car seats can be expensive, you might be tempted to buy a used car seat that accommodates a tighter budget.
We don't recommend purchasing a used car seat unless you know with absolute certainty the model, manufacturer, and the car seat's past history – including any involvement in an accident.
Here are three factors to consider if you decide to go this route:
Car seat history:

Even if a baby car seat

looks

fine from the outside, that doesn't mean it's safe to use. Why is this the case? If it's been involved in a crash, the inner mechanisms and components of the car seat could be compromised. If a used car seat has been stressed by a vehicular collision in the past, it has a limited ability to protect your child in from a car accident in the future.

Expiration date:

Knowing a baby car seat's expiration date is another critical factor you need to assess when you're looking at used car seats. You'll want to ensure the car seat isn't using older technology that's no longer as safe as contemporary versions. To get this information, you would need the label on the car seat and the official owner's manual to ascertain the manufacturer's expiration date. Most baby car seats have an expiration period of 6 years.

Recall status:

Another major impediment to buying a safe used car seat is knowing a seat's recall status. Usually, car seat recalls are minor fixes and are unrelated to the safety of the car seat as a whole. But without the proper model, year, and manufacturing information, you might not have the ability to get this information.
The Best Car Seat for Your Family
At the end of the day, the best car seat for you and your baby depends on how you plan to use it as they grow. For newborns, rear-facing infant car seats with 5-point harness systems are the ideal choice. If you're looking to extend the life of your car seat, opt for a convertible or all-in-one car seat that adapts to your child's different developmental stages. Eventually, your little one will transition to the final type of car seat: the booster seat. Whatever stage your child is in, it's important to have the safest car seat possible so you can continue making a lifetime of memories together.